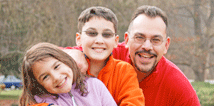 At the
Law Offices of Thomas M. Bloom, Esq.
, I understand that your divorce impacts many areas of your life. It is my goal to help you reach your legal objectives through caring and capable representation, so that you can move on. With an office in Los Gatos, I provide experienced representation in divorce and family law to clients in the San Jose and Santa Clara County area, and I also serve clients in the Santa Cruz County and Central Coast area from my office in Santa Cruz.
Divorce Law
I have considerable experience in dividing the assets of complex marital estates, and I handle all areas of California divorce law, including:
Divorce and legal separation
Prenuptial and marital agreements
Department of Child Services & District Attorney Cases
Visitation arrangements
Modifications and enforcement
Custody, Support and Child-related Issues
Family law issues involving children are often the most emotional and complicated. I use my mediation and negotiation skills to firmly guide all parties toward resolutions that are practical for the parents but in the best interests of the child. I handle:
Child custody agreements
Stepparent / grandparent adoption
Department of Child Services & District Attorney Cases
Property settlements
Domestic partnerships
Restraining orders
Mediation and Collaborative Law
Alternative dispute resolution methods such as mediation (neutral third party) and collaborative divorce (a commitment not to go court) take much of the animosity out of family law, and they are usually quicker and less costly than traditional four-party negotiation or courtroom litigation. I am a certified family law mediator in California, handling divorce and division of assets, custody disputes, visitation agreements and other family matters.
Contact a Santa Clara County Family Law Lawyer
Contact the Law Offices of Thomas M. Bloom online
or call (408) 358-4923 or (831) 227-9143 to arrange a free initial consultation with an experienced divorce, family law and mediation attorney. I am available weekends and evenings by appointment, and I can meet you at our Los Gatos or Santa Cruz offices.
Free Initial Consultation
We will use your information only in reply to your inquiry.