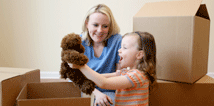 Silicon Valley | Los Gatos | San Jose, California
The Law Offices of Thomas M. Bloom offers resolution of child custody disputes and other family law issues in a non-confrontational, cost-effective manner. I recognize the importance of maintaining positive relationships with a former spouse or partner in the interests of the children. I often recommend mediation or collaborative law to produce the best results for all.

My practice represents divorcing and unmarried parents in child custody agreements, visitation arrangements, child support and court orders for enforcement, modifications of post-divorce agreements, paternity actions, adoption and all other areas of divorce and family law . I represent clients in Santa Clara County and Santa Cruz County, including Sunnyvale, Los Gatos, San Jose, Cupertino, Palo Alto and throughout the South Bay, Monterey Bay and Silicon Valley areas.

Custody and Visitation
A visitation or child custody agreement has to be workable and flexible to meet the needs of busy parents on both sides off the situation. As an effective child custody attorney, I spend the time with clients to understand their needs and family dynamics. My creative parenting plans take into account holiday time, summer vacations, weekends, and the day-to-day logistics of exchanges, all considering what is best for the child.

Child Support

While the amount of child support is determined by government guidelines, I help clients uncover all assets and sources of income in the divorce settlement for an accurate determination of financial support. The Law Offices of Thomas M. Bloom also handles enforcement and collection actions for overdue support payments (representing either parent).

Modifications

When one parent plans to relocate, or when financial circumstances change, the custody, visitation or child support agreements may need to be modified. I will represent clients before a family court judge, ensuring that the interests of the children and my client are considered in the court's decision.

Paternity and Adoption

I represent mothers who are seeking to establish paternity for financial support of their child. I also advocate for father's rights, seeking fair and reasonable custody or visitation arrangements for men with children out of wedlock. I also handle stepparent adoptions, as well and adoptions by grandparents or other family members, including termination of parental rights.

Free Consultation

As a client-oriented child custody attorney, the Law Offices of Thomas M. Bloom is determined to find creative, cost-effective and realistic solutions to custody, child support and other family law issues for residents of the greater San Jose and Silicon Valley area. Contact me today to arrange a free initial consultation . I can arrange evening and weekend appointments, and you will meet with me personally.
Free Initial Consultation
We will use your information only in reply to your inquiry.