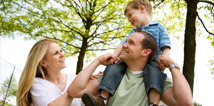 At the Law Offices of Thomas M. Bloom, Esq., I recognize that issues involving family law are often emotionally charged situations. I am a Santa Clara County divorce and family law attorney who aids clients in resolving their legal matter quickly and compassionately. I get personal satisfaction from finishing cases and seeing people move on in their lives. In representing clients, I avoid prolonged litigation. I constantly work toward the cost-effective resolution of all family law issues. My clients appreciate my thoughtful approach and cool head when it comes to dividing marital assets, creating custody agreements, and determining child support or spousal support. If you need legal assistance with a family law matter
contact me, a San Jose family law attorney
or call 408-358-4923 for a free initial consultation.
Compassionate Representation in All Areas of Family Law
I provide compassionate, experienced representation in all areas of family law including:
Divorce:

Divorces can be emotionally challenging. I recognize this fact and will work with you to try and reach an amicable agreement. I will always try to mediate issues or negotiate with all parties through collaborative law; however, I can effectively litigate matters in court if necessary. I can also help you explore divorce alternatives such as legal separation and annulment.

Property division:

My experience as a Temporary Judge Pro Tem, Temporary Settlement Officer, and Pro Tem Property Arbitrator in Santa Clara County, along with the expertise from my close network of financial professionals, enables me to offer clients top-notch legal advice in areas of complex business and property valuation. I have handled divorces for couples with little property, and I have negotiated property settlements and gone to trial involving million-dollar estates.
I have access to knowledgeable CPAs, brokers, realtors and evaluators who can help determine the value of marital property such as homes and vacation properties, businesses and rental properties; pensions, IRAs, 401(k)s and retirement accounts; stocks, annuities, deferred compensation and other forms of income and wealth. From these expert evaluations, I will negotiate the property settlement in the interests of my clients.
Custody and child support:

I can help resolve child custody disputes and issues of support in a nonconfrontational, cost-effective manner.
Mediation and collaborative law:
I resolve many divorces through mediation or collaborative law, in which clients who are committed to a workable divorce settlement sit down together to work out the details. I urge all clients to consider this alternative to costly and drawn-out litigation. However, not all spouses can "agree to agree" and find that litigation is necessary. I will not hesitate to vigorously protect my clients in family court when litigation is unavoidable.
Prenuptial agreements: Couples entering a second or subsequent marriage with sizeable assets or nest eggs often don't want those separate assets commingled when they marry. I have experience fashioning prenuptial and post-marital agreements to establish joint property and separate property to prevent future issues.
Restraining orders: I represent clients seeking court orders for protection involving domestic violence or threats by an estranged spouse, legally separated spouse or ex-spouse, as well as restraining orders against partners outside of marriage. I also represent clients in defending against restraining orders.
Call for a Free Initial Consultation With a Los Gatos Child Support Attorney
If you are seeking legal assistance for child support, divorce, or another family law issue,
contact me, a Los Gatos child support attorney
or call 408-358-4923 for a free initial consultation. I look forward to being of service.
Free Initial Consultation
We will use your information only in reply to your inquiry.